(Updated at 8:29pm)
The Mitchell Report is going to be released/announced at 2pm today (ESPN had me fooled for awhile; their *coverage* starts at 1pm, but God knows I'm not watching an hour of Skip Bayless discussing steroids). I really don't care all that much, but I figure something interesting is bound to happen, so I'll be live-blogging it. Don't expect any brilliant insight, but stop by a little before 2pm eastern.
10:51
Apparently, Roger Clemens is
going to be named
in the report. Off to an excellent start already.
11:04
MLBTR
reports
that "the Yankees are in for a bad day (but
Derek Jeter
and
Mariano Rivera
are not in the report)".
11:22
I really like this picture, on ESPN.com's front page right now: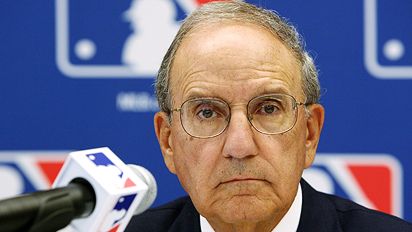 This is not a man to be taken lightly.
11:33
According to some
source
, "[n]o Mets from the current 40-man roster are named."
11:42
Deadspin has
what may be the list
. There is one name that stands out. A lot. And it ain't the shirtless guy in the picture.
12:45
ESPN has a very, very lose definition of "breaking news".
Also, shockingly, that original list probably
isn't entirely accurate
: "A high-ranking MLB official said there are several errors in the list provided to WNBC.com by two sources."
Thankfully we have Skip Bayless and Steve Phillips to guide us through these trying times.
1:22
Case in point: "Commissioner Bud Selig expected to speak at 4:30 ET" is decidedly not breaking news.
1:25
I am currently flipping between ESPN and this fat camp show on MTV, which is absolutely compelling television.
1:27
Heyman has
more names
. Nothing terribly shocking.
1:30
The Twins have
signed Adam Everett
, after he was non-tendered by the Astros yesterday. So it looks like their middle infield will be Everett (.248/.299/.356 career line) and
Nick Punto
(.245/.314/.321). Terrifying.
1:47
Dan Wetzel
on Clemens
:
"[Clemens and Bonds] are just two guys who had it all, foolishly went for more, and have now lost everything."
Really
, now?
1:49
Jose Canseco is in attendance. Fantastic.
1:56
Jeremy Schapp has the report. It looks long.
Roger Clemens took steroids. Once again- this is news?
1:57
People who wrote checks to Radomski: Paul LoDuca, Denny Neagle, Fernando Vina, David Segui, Miguel Tejada, Rondell White.
Schapp could not have possibly done a worse job on this.
1:59
Here comes George Mitchell.
2:01
Apparently Cossack said "
Priestley
" instead of "Grimsley". Now that is funny.
Oh, and Mitchell is talking and saying nothing of interest. They're going to post the entire report on MLB.com though.
2:06
That was quick.
Here
it is (.pdf file).
2:15
No Pujols, it looks like. (The above link opens it up in an internet window; there's no actual list, but plenty of names.)
2:17
Marvin Bernard
Barry Bonds
Bobby Estalella
Jason Giambi
Jeremy Giambi
Benito Santiago
Gary Sheffield
Randy Velarde (!)
Lenny Dykstra
David Segui
Larry Bigbie
Brian Roberts
Jack Cust
Tim Laker
Josias Manzanillo
Todd Hundley
Hal Morris
Matt Franco
Rondell White
Roger Clemens
Andy Pettitte
Chuck Knoblauch
Jason Grimsley
Gregg Zaun
David Justice
F.P. Santangelo
Glenallen Hill
Mo Vaughn
Denny Neagle
Ron Villone
Ryan Franklin
Chris Donnels
Todd Williams
Phil Hiatt
Todd Pratt
Kevin Young
Mike Lansing
Cody McKay
Kent Mercker
Adam Piatt
Miguel Tejada
Jason Christiansen
Stephen Randolph
Jerry Hairston Jr.
Paul Lo Duca
Adam Riggs
Fernando Vina
Kevin Brown
Eric Gagne
Mike Bell
Matt Herges
Gary Bennett Jr.
Jim Parque
Brendan Donnelly
Chad Allen
Jeff Williams
Howie Clark
Nook Logan (!)
2:23
Internet Purchases:
2:26
Prediction: in a week (if that), everybody is going to have forgotten about this.
2:30
This link
might be more helpful.
3:01
I've lost interest. What have we really learned? Steroids were (and are) bad, and ran rampant. More testing would be good. Nothing terrible groundbreaking here, is there?
3:16
AA has
Cossack's 90210 slip-up
. Nate Silver also has a post on
Unfiltered
.
6:33
Apparently, Roger Clemens is
denying this whole thing
.
Of course he is.
8:25
The fun never ends. The Sporting Blog has the "
Anti-Mitchell Report
", and apparently Jose Canseco
wasn't allowed in the press conference
.
Leitch
sums it up well
:
"But honestly: This is what MLB paid $20 million for? This took nearly two years? Essentially, Sen. Mitchell has two sources, a bunch of media reports, Jose Canseco's book and every player in baseball (save two) ignoring his requests to talk. The only reason Roger Clemens and Andy Pettitte are in here is because they were unfortunate enough to have acquaintances who had no choice but to talk. The report has brought us no closer, because nothing possibly could. We don't think this is going to bring us any closure, because the report is so obviously not comprehensive."
8:29
FJM has
five
new Mitchell Report-related posts; I'm not about to link to all of them, but you should
go there
.